Free Shipping in Canada on Orders over $99!*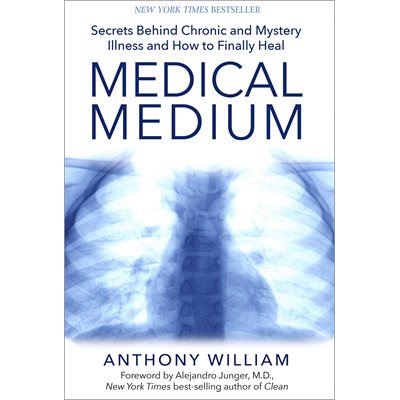 Press and move to zoom
Mouse over image to zoom
Medical Medium: Secrets Behind Chronic and Mystery Illness and How to Finally Heal Book
By Anthony Williams.

Medical Medium reveals the root causes of diseases and conditions that medical communities either misunderstand or struggle to understand at all.

It explores all-natural solutions for dozens of the illnesses that plague us, including Lyme disease, fibromyalgia, adrenal fatigue, chronic fatigue syndrome, hormonal imbalances, Hashimoto's disease, multiple sclerosis, depression, neurological conditions, chronic inflammation, autoimmune disease, blood sugar imbalances, colitis and other digestive disorders, and more.

It also offers solutions for restoring the soul and spirit after illness has torn at our emotional fabric.

Whether you've been given a diagnosis you don't understand, or you have symptoms you don't know how to name, or someone you love is sick, or you want to care for your own patients better, Medical Medium offers the answers you need.

It's also a guidebook for everyone seeking the secrets to living longer, healthier lives.

Product code :BKO-MM
CAD $39.99
CAD $35.99
11% discount
Availability: Not available